So long Michael! Well it looks like Jordan's gone but that's what's great about this website. You can see his pictures, stats, memorabilia and lot's more.
It's here, Michael's brand new video!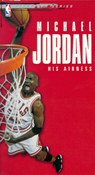 Click the video to read a description of the video and see an enlarged picture or
Click here to order now!

Our Free cards contest is going well but alot of you don't like your chances so we've decided to run a new promotion. Right now during June if you sign up with UTRADE Auctions at this address UTRADE Auctions and then email us your mailing address to air23@bullsfan.com and we'll send out 1 Jordan trading card to you for free. If you have a website you can sign up at ONE & ONLY Network and we'll send you 2 Jordan cards. Your mailing info will only be used to send you the cards. We don't sell information. Signing up with these websites is free and you will also make money if you sign up anyone, so what do you have to lose. Send questions to air23@bullsfan.com