Order Michael's new video here!
Click here to see and order other Jordan videos!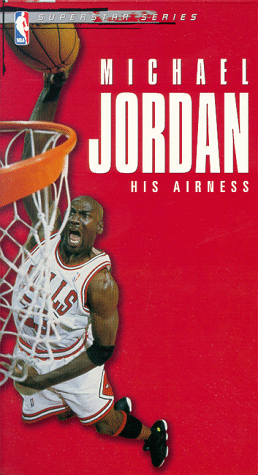 Once upon a time, a boy named Michael Jordan lived in Wilmington, North Carolina. Young Michael dreamt of becoming a professional basketball player. He began by participating in drop-in games with his brother, although at first he could not beat the older, heavier, more experienced sibling. As time went on, though, something grew inside of this child, a will and determination to beat anyone and anything that stood in the way of his success on the court. Playing basketball for his high school team, Jordan won a scholarship to the University of North Carolina. It was there that he first gave the world a glimpse of his greatness.
In a fitting tribute to this legendary player, His Airness examines the life of Michael Jordan, from his boyhood exploits to his final year in the NBA. This absorbing retrospective shows what made this man so remarkable: his constant quest for improvement. Even after his first retirement, in 1993, he returned to the court reborn, galvanized by a desire to win and to be on top of the game once again. He was a great ambassador and icon, as a number of basketball greats, from Magic Johnson to Isiah Thomas, testify to in interviews. Dignified, classy, determined, awesome, driven--there are not enough superlatives to describe what Jordan meant to the game of basketball and to sports in general. Legendary player Bill Russell summed it up best when he claims that the reason Jordan sustained his level of excellence was because "he was determined to be Michael Jordan every night." --Jeremy Storey

From the back cover
From his days as a child in North Carolina to his retirement from the Chicago Bulls in 1999, His Airness takes you on a journey through Michael Jordan's entire career. Complete with spectacular highlights along with interviews from teammates, coaches, and writers, plus Michael's own insight, this video captures the spirit, determination and championship drive of this global icon.